Here are some of my absolute favorite products… the best of 2016.  Enjoy!
– Doug   (Who the heck is Doug Bernier?)
1) The Rukket Net
It's a travel net that takes less than a minute to put together. It's super sturdy and durable, the perfect size (and, I found this exciting, can be ordered in a bundle with 3 heavy balls).
If you need a net for home or team practice (hitting or throwing), I highly recommend this one.
You can get it from Amazon with the weighted balls, or without the weighted balls (I really like the weighted balls).
Personally, I like the weighted balls. They make for a great tee drill, where you have to figure out how to be really powerful in your lower half in order to keep proper form and hit the weighted ball with some force. It's great for learning how to use your legs properly, as well as developing strength.
Below:  We used the Rukket net for many different hitting and fielding drills at a baseball camp we put on in Denver last week.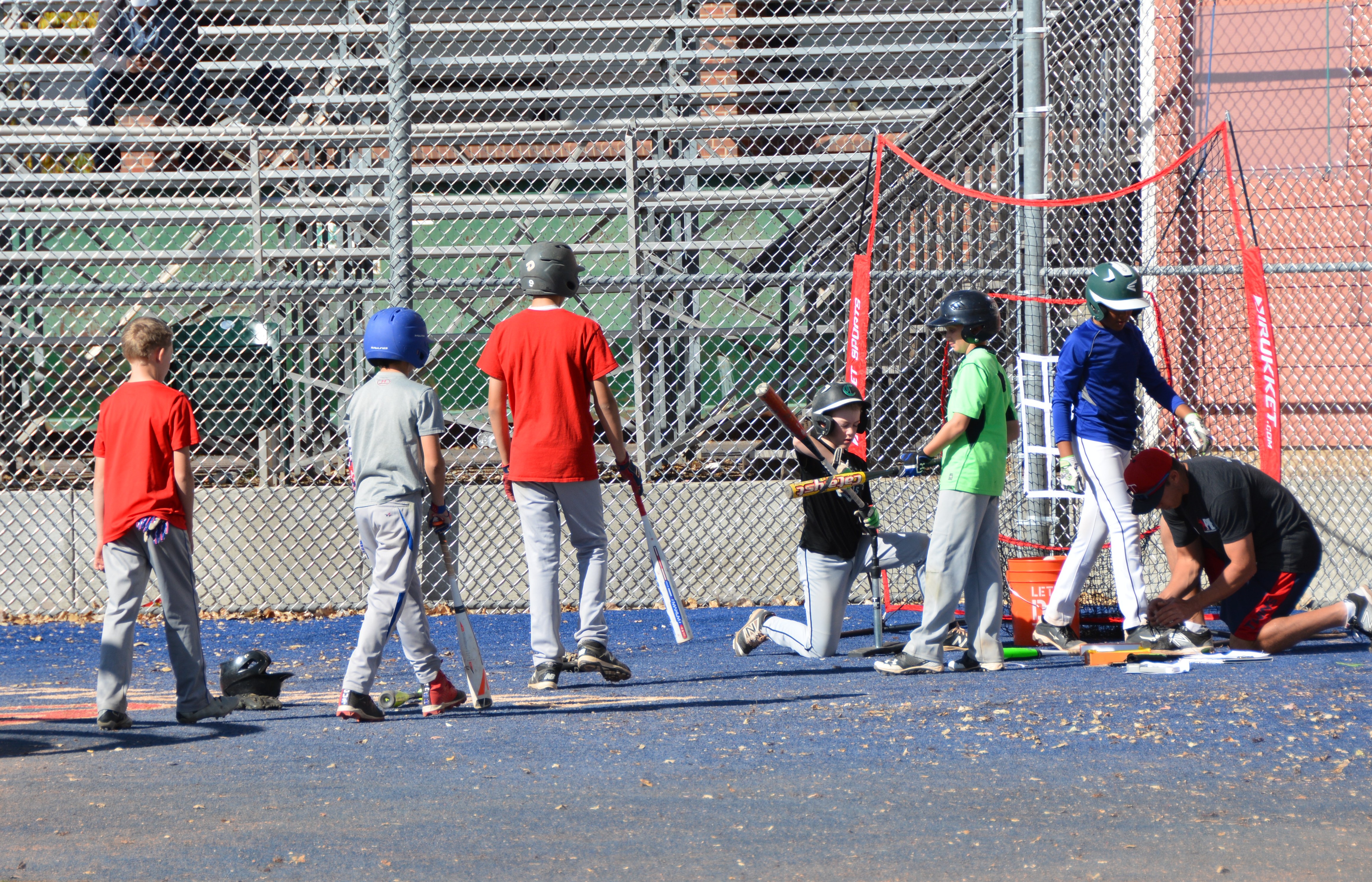 2.) Tanner Heavy
A couple years ago we tested some of the best tees on the market with 1000's of swings and put together a list of our top 5 recommended batting tees.  Since then, this one has blown them all out of the water.
The Tanner Heavy Tee has a new type of base that solves the problem of "tee walking" (tee moves around while hitting) without having to add extra weight. You can also set it anywhere on home plate and it will remain 100% stable.  It is so important to practicing hitting in different areas of the strike zone – and yet it's the only tee I know right now that can do that.
You can get the Tanner Heavy here ( Free shipping)
3.) 9 Hole Net
This net is really fun games and drills. It's also one of the most durable nets I've ever seen. Here's the review we did on it a while back.  It's available for sale here (with cheaper shipping)  or here.
4.) Wood baseball bat
A custom engraved baseball bat is fun for any baseball player.  It incorporates one of the most fun parts of baseball – hitting – with personal style.
There are 2 companies I can recommend from personal experience for high quality wood bats.
B45 Birch Bats  – These are the ones I currently use in games, beginning back a couple years ago when I was with the Minnesota Twins.  I like birch, and these are the best I've tried so far.  I also like how they do a 30 day warrantee on breaking the bat, and free engraving on their Custom Pro Select bats.  Use this code " pbi15 " for 15% off your order at B45 Baseball
Phoenix bats – I used Phoenix bats for many years of my pro career, so I know they put out good quality.  They are also one of the best for customizing into a bat that's really unique.  Plus free engraving, try it out for 10 days, "get it fast" options, and free shipping on orders $95+ .  Use the code "

pbi

" for 10% off
5.) Lizard skins grips
Personally, I still use pine tar for my bat grip.  But I know many pro guys who like Lizard skin bat grips, and for kids it's a great way to add personal style and swag to your bat… plus it's way less messy than pine tar.  Both of the companies I listed above sell Lizard Skin grips (the discount codes above will work for these too), or you can get them here from Amazon (gotta love free Prime shipping).
6.) Oakley Prizm Lenses
Maybe you've heard me talk about these before.  I finally ended my search for good baseball sunglasses when I found these.
Usually with sunglasses on I feel like I don't see quite as well. But these lenses actually make everything crisp-er (is that a word?) and it's easier to see the baseball.
The best part is, they work in changing light conditions. So sunny or cloudy, these lenses work well in both.
AND they work in one of the most difficult of baseball circumstances, which I mentioned earlier is being in sunlight and looking into the shadows, trying to see the baseball.
Which frame you choose… well, I'm sorry I have less input on that. Oakley has a bunch of great ones that you can get with the Prism lenses. They range from the Radar, which is probably the best performing, to Canteen, which is more versatile to wear as on the field but also off, because they look like normal sunglasses.  And you can buy just the lenses if you already have nice Oakley frames.
So in a nutshell, I highly recommend Prizm lenses, with whichever model of frame floats your boat.

7.) Vyper Foam Roller
OK this is more for high school athletes and older.  I used this EVERY DAY last season.  This is NOT your average foam roller.
This thing has some serious vibration, so it is not for the faint of heart.  But if you're serious about staying healthy, loose and performing at the peak of your ability… this thing is second only to having a daily personal massage (who has time for that?).
Also, I can personally attest to how durable it is, since it got heavy use by the entire Ranger's AAA team last year and never needed replacing.
Get the Hyperice Vyper Foam Roller here, with free shipping
Want more?
Sign up for emailif you want:
Free baseball tips from the pros
More exclusive discount codes