This page is a guide to the top 10 best infield gloves. Your best infield glove is an essential part of your defense.  Finding the right one can help minimize mistakes in the field, while the wrong one can undermine your best efforts.  Here are some pro tips about the best infield gloves.
Important.  More than almost any other type of baseball equipment, you definitely get what you pay for with an infield glove.  Better leather makes a better glove.
Inexpensive gloves that use cheap leather or even imitation leather can be so weak that balls won't even hold in the glove and it could be much more difficult to even catch a baseball.  The best infield gloves use strong, good quality leather that helps the glove keep its shape longer, and makes the glove overall more durable.
Buying one nice glove will last longer and play better than several average to below average gloves.
If you are unsure of what size infield glove is right for you, check out our guide to Baseball Glove Sizes, which includes a glove size chart.  Your ideal size will be a combination of what position you play and personal preference.
Best Infield Gloves – Breakdown by Brand
Each company has their quality and top tier gloves.  Deciding on a certain company is personal preference, but the following companies make the best infield gloves in the business, and I'll help explain some of the differences between them that might help you choose which is right for you.
Wilson
Wilson is a great glove company with 2 models on the Best Infield Glove list:  A2k and A2000.
Their gloves on the whole have a quick break in period.  The natural creases on the glove make it easy for the glove to close properly, and they feature a shallow pocket to make it easy to move from glove to hand to make the awesome defensive play.
Glove break-in…  Some glove companies require a little more know how when breaking in a glove.  Wilson makes it easy for you.  Their leather can get soft quickly, which can be good or bad depending on how you like your glove. I personally use these gloves, and I'm very happy with them.
A2K series  – $350  If you love Wilson gloves and want to try their top tier glove go for their A2k series. They hand select the top 5% of leather that they receive and make their highest quality glove.
A little longer break in time than the A2000 series gloves but they last a long time.
The A2k infield glove comes in 11.25″  11.5″  11.75″  12″
A2000 series – $240   Is entering its 55th year.  Along with the A2k, this glove is also used by many major leaguers.  They are constantly making improvements but you will get nice leather, quality fit and a fairly quick break in time. Better yet, this glove will not break the bank but it will give you good quality.
Superskin–  is meant to make gloves lighter with the goal to improve the player's reaction time.  Superskin on the back of some A2000 gloves.   Many gloves use mesh rather than all leather because it makes the glove lighter.However, regular mesh is also weaker than leather.  The superskin takes the place of mesh on Wilson's A2000, making it both 10-15% lighter AND stronger than leather.  It also shortens break in time and repels water.  Superskin gloves will have SS in the model name.   For size, you can choose between 11.25″    11.5″   11.75″  and  12″
Smaller hands – If you are looking for a quality glove for smaller hands, the A1K models of the A2000 might be what you need- 

smaller wrist opening combined with narrower finger stalls

.  These are great for younger kids since most companies offer sub-par leather to people with smaller hands.
Shop for Wilson Infield Gloves at: Amazon
| Baseball Monkey
Rawlings
Probably the most trusted name in baseball gloves.
Glove break in time…  As you get better leather and a more expensive glove the break in will take a little longer.  But it will also last much longer.
Rawlings gloves are known for keeping their thumb and pinky area of the glove firm even when the glove is fully broken in, which is ideal.  Once you lose shape with the outside of the glove, you will lose overall strength.
Some people think the Heart of the Hide series leather gets a little too soft, but the Pro Preferred series is an extremely popular glove.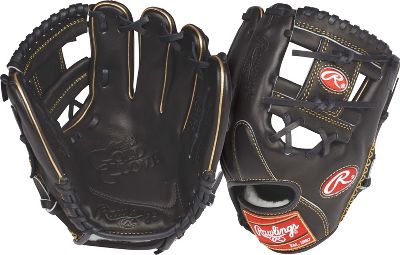 Gold Glove Collection Opti-core – $499  Rawlings most expensive glove series.  Hand sewn, supple and strong leather.  80% player break in, so it should last a long time.
Also, comfort is a big differentiator.  The premium palm lining should give the best the fit and feel of all the Rawlings gloves.
Each of these base its own individual serial number signifying the maker, the date created and the glove's production number.
Pro Preferred series – $350   If you like rawlings and like the heart of the hide series or want to try the next level of glove go for a pro preferred glove.  This glove is made from Kip leather which gives you a fairly quick break in period with very good durability.  This glove will hold its shape and break in nicely.  Used by many professional infielders.
mesh back–  is offered on the back of some heart of the hide series gloves.  This makes the glove lighter and break in quicker.  You will sacrifice a little overall durability because the mesh is not as strong as leather.
Pro stock Heart of the hide series – $250  This glove series is very popular and is made from their top 5% of their pro stock leather.  You will not go wrong with this series of Rawlings.  The durability is not as good as their 2 elite gloves but it won't be enough to effect your play.  Some infielders like using a well shaped, strong, broke in glove and that is what you will get with this glove.
Louisville Slugger
Katsu Series – $250 Is made from professional quality Senmonka Japanese leather. Their exclusive tanning process tightens and compresses the fibers in the leather allowing for more strength and durability in this high end model glove. This glove will require more break in time.
 Pro flare series – $199 They use top grade oil-infused Horween leather that will give you an average break in time, but give you great durability.  The flare series is unique in that it is formed to give you a larger catching surface.  Extra wide and durable lacing makes this a nice quality glove that is not too expensive.
 HD9 Series – $109 is a hybrid combination of oil treated steer hide leather and performance mesh. The mesh backing allows for quicker break in and  a lighter feel. However, with any mesh backed glove, durability is not as good as a full leather glove.
Mizuno
Pro Limited Edition series – $500 This is the elite glove for Mizuno.  Each are made from Japanese tanned Deguchi leather which is soft, flexible, but extremely durable. Mizuno also claims this glove is perfectly balanced to enhance a players optimum reaction times.
Mizuno prides itself on listening to feedback from their pro guys who use this model (Juan Pierre, Scott Rolen, Alfonso Soriano, Clint Barmes, Brandon Wood, Matt Cain, Ichiro Suzuki, Hideki Matsui) to design a better glove.  Also, they have "4D advanced" tech which keeps the glove strong but makes it so the fingers can move independently more easily.
The Pro Series also comes with an Off Season Reconditioning Program. This allows one complete reconditioning during the life of your glove, to restore it to it's original "Like New" condition.
The Pro series is a little stiffer than the Global Elite series:
The global series gloves are less stiff  and lighter than the Pro series. The entire Global series differ on leather type and conditioning. The Jinama series uses Japanese leather for extreme durability. The Elite VOP is put through a Vibration Oil Process to make them softer and more durable than the original Global Elite series.
We looked around and found that Baseball Express  and Baseball Monkey have a decent selection of these gloves.
THANK YOU!  If these tips for how to choose a good infield glove have been helpful, we hope you'll support our website by clicking our links before you buy! It doesn't cost you anything at all but the online retailer gives PBI a % of what you buy.  Thanks for helping us keep this website free for everyone! Shop for Infield Gloves at:
Baseball Express – 30 day returns; Free shipping on glove or bat purchases; Free Shipping on all orders over $99. Build a custom glove.
Amazon – With Amazon Prime, they offer Free 2 Day Shipping; 30 day Return Policy.
Rawlings Gear – Free shipping over $125; Free return shipping (up to $7.99); Build a custom glove or personalize your gear