I have so much respect for baseball coaches, and in particular for Dad's who spend years volunteer coaching their kid's teams.  So in honor of you, here's a fun list of gift ideas for baseball Dads and baseball coaches.
(The gift ideas below range from affordable to high end, so there's a little something for every budget.)
Gift Ideas for Baseball Coaches #1 – Stay hydrated and feel appreciated
Here's a tumbler that says "Best Coach Ever' , or this one baseball one.
2. T-shirt – Because I'm The Coach That's Why
Or this cutie, a "Because I'm the Coach That's Why" Tshirt 
3. Bag of Bases
Make it easy for coach to carry the bases around with the Bag of Bases.  The bases it comes with are flimsy (great for a pick-up game in the driveway or something like that… not good for grass), but the bag is really nice and very much capable of carrying thicker rubber bases.
4. Gift Idea for Baseball Coach #4 – Something sentimental
 "A great coach is hard to find and impossible to forget" Keychain or a mug that says. "A Good Coach can change a game.  A great coach can change a life."
6.  Shoes made from a high-end baseball glove
Some baseball gloves are made from very premium leather, which means they'd also make great shoes!  How much fun would Dad have showing everyone his shoes made from Nokona baseball glove leather?  https://www.harimari.com/collections/nokona-adobe-mens
Baseball Dad / Baseball Coach Gift Idea #7 – Customizable wallet made of vintage baseball glove leather
(Notice – This one is past the deadline to receive by Christmas 2019)
https://www.etsy.com/listing/719866529/the-behemoth-of-bust-vintage-baseball
Here's the description provided:
Full Grain Leather, Vintage Baseball Glove Leather
In tribute to the greatest past-time in American Sports we have created One-of-a-Kind Vintage Baseball Glove wallets to remember all the sandlots and backyard games that shaped our childhood!
MADE FROM VINTAGE BASEBALL GLOVES
Crafted from VINTAGE BASEBALL GLOVE LEATHER – the Behemoth of Bust Wallet is designed as a thin bifold wallet to hold all of your cash and cards. It can carry as many cards as a traditional bifold and retains cash within the back pocket.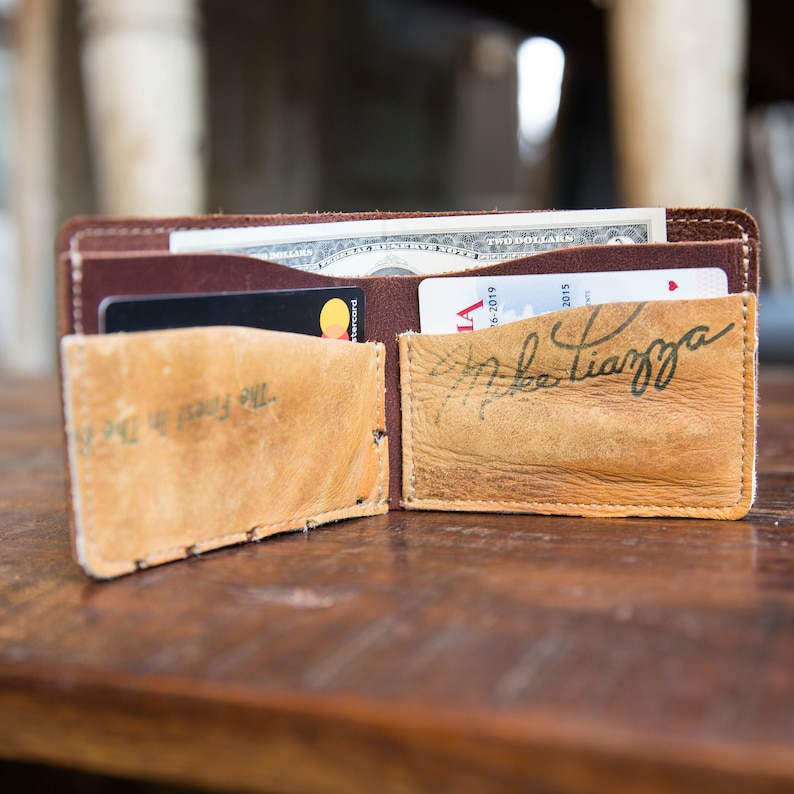 About Author